The Swedenborgian Church has had a long tradition of summer camps going back for over a century. We believe camps provide a place where social connections can be made and relationships fostered. Below are the active Camps and Retreat Centers associated with the Swedenborgian Church.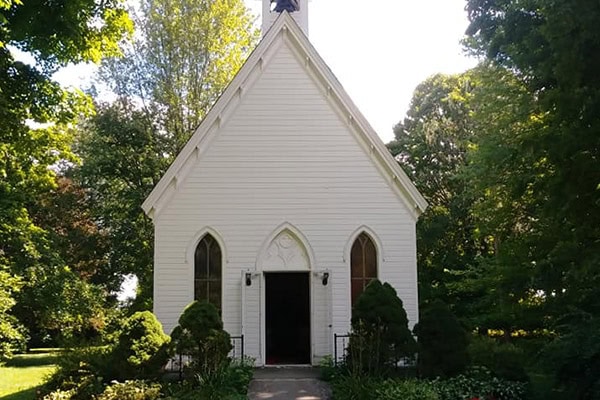 Almont New Church Assembly and Retreat Center
The Almont New Church Assembly and Retreat Center in Allenton, Michigan, was founded in 1899 and provides the perfect opportunity to unplug. It has modern facilities and a pond for swimming and fishing. Almont Summer School, held in July, is a week-long family camp and has a long history of bringing together Swedenborgians of all ages, from 1 to 100, to live, play, and care for one another in a fun and safe setting. Campers of all ages enjoy projects, classes, games, helping one another, working and playing together as a big family. In a world where we are often moving too fast, Almont is a great place to slow down and reconnect with your spiritual community.
Fryeburg New Church Assembly
Fryeburg New Church Assembly is a family summer camp for the purposes of relaxation, meditation, and spiritual study along the Saco River in Fryeburg, Maine. It is a two-week, multi-generational, Swedenborgian family camp typically held at the beginning of August. The camp is located on 20+ acres of pine forest on the banks of the refreshing waters of the Saco River. The first session of the Fryeburg New Church Assembly was held in the summer of 1921.
The Summer Session program includes something for everyone: chapel, lectures, religion classes and special programming for the children and teens, swimming, canoeing, and evening programs presented by campers. Private rooms can be rented as well as any of our other 19 family units located in cabins along the ridge overlooking the river. Tent and RV sites are also available with a bathhouse nearby.
Paulhaven Children's Camp
Paulhaven Children's Camp is a Swedenborgian Youth Camp for ages 10 to 18, in Edmonton Canada. Camp is held at a wooded site on a lovely lake and runs the third week in July, starting on Sunday and ending on Saturday. The week includes swimming, team games, skits, campfire/singing, baseball day, boating, church classes, services daily, free time, a full dance on the last night with a DJ, crafts, and more.
Accommodations are primitive by design. The children are housed in cabins, but there is no running water, so this is a true camping experience. This small camp can house 40 campers so it fills up pretty quickly. Food is provided for the campers, but the children share in the chores of housekeeping. The religious program is staffed by members of the Swedenborgian churches in Western Canada, which also sponsors the camp. There is a small group of people that own cabins on the lot that house the volunteer staff for the week.
We love having visitors from the other churches come through. Everyone always has a positive experience.
For more information, contact Dianne Roessinger at (403) 239-4192
Mosswood Hollow Retreat Center
Mosswood Hollow Retreat Center, nestled on 40 acres in the foothills of the Cascade Mountains, abounds in natural beauty and grace. Founded in 1983, in Duvall near Seattle, Washington, to provide a space for people for learning, healing, and renewal. It is a sanctuary, an oasis of peace and natural beauty.
The center has open fields, deep forests, ponds and streams, a mile-long walking trail around a five-acre beaver pond, flower and vegetable gardens, and loads of wildlife. The large and gracious lodge sleeps 22, and up to 80 can be seated for meals in our spacious dining room. Comfortable chairs on the wraparound porch are perfect for reading, journaling, impromptu conversations, or small breakout group work. The living room with its stone fireplace, comfortable couches, and chairs is a popular after-dinner gathering place. Our meeting space is a 30-foot yurt, about 150 yards from the lodge, and it comfortably seats 40 in a circle. We even have a six-person hot tub spa, which guests love soaking in during free time. Meals are lovingly prepared from scratch using organic, home grown or locally grown produce, whenever possible.
Events here are primarily between 15 and 35 people, although we also host day events, larger celebrations, family reunions, and weddings of up to 75.
Temenos
Temenos is a living sanctuary for wildlife and humans alike, situated in a 57-acre grove of trees that are sacred to us. We are located along the Broad Run Watershed in Chester County, PA. Our space is designed to allow individuals and groups to nourish body, mind, and spirit through renewal, relaxation, and contemplation. Our mission is centered around offering gracious hospitality to all in search of renewal.
The First New Jerusalem Society, also known as "Temenos Church," holds spiritual-based Sunday services in our historic farmhouse. All are welcome, for we honor all paths. The retreat center is open for booking day and overnight retreats, special events such as weddings, and is also available for weekday meetings and classes.
We offer a place to relax and nourish your soul. Come for an hour, a day, a weekend, or longer. We welcome schools, businesses, non-profits, churches, private retreats, family gatherings, and conferences. Amidst the fields and forest, you will have an opportunity to reflect, examine, and perhaps even gain a new vision for your work and life.